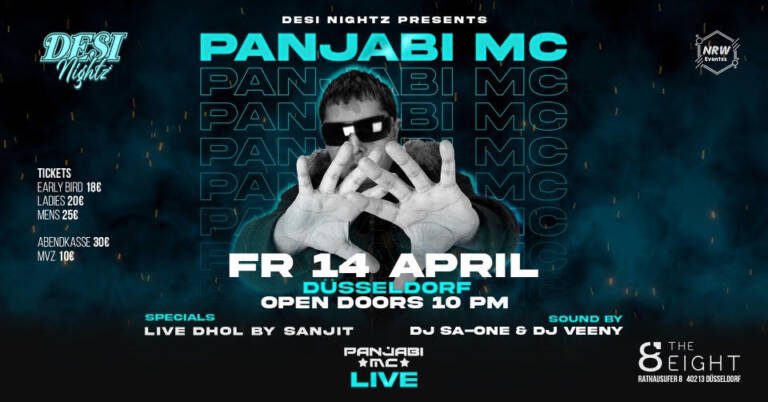 DesiNightz

presents Punjabi MC Live in

Düsseldorf
Get ready for an electrifying night of Bollywood beats in Düsseldorf! On April 14th, 2023, Panjabi Mc, the king of Bhangra music, will be taking the stage to give you a performance you won't forget. This is your chance to dance the night away to the hottest tunes from India, with an international twist. So grab your friends, put on your best Bollywood attire, and get ready to let loose and have some fun! See you on the dance floor!
Not only will you get to see the amazing Panjabi Mc perform, but we're excited to announce that we'll also have a talented DJ SA-ONE and Dj Veeny spinning the latest Bollywood and international hits. This is going to be a party like no other, so get ready to dance all night long with the perfect blend of music from both Panjabi Mc and our talented DJs. Don't miss out on this unforgettable night of music, dancing, and fun in Düsseldorf on April 14th, 2023!


Date: 14th April 2023    Time: 10pm – 4am     Venue: Ufer 8, Rathausufer 8, 40213 Düsseldorf

Important information:
Minimum drink consumption card worth 10 euros to be purchased at the door from the club.
Dress code:  Men in Shirts and women in dresses
Security personnel will be checking the IDs strictly of all, so please carry your ID along.
For all the concerns & feedback, guests are requested to contact the organizer of this party,  @desinightz on their Instagram page.
Organizer: DesiNightz  (NRWEventss – Supporting partner)

Refund policy: Tickets are non-refundable. Only in case, the show gets canceled due to any reason beyond our control e.g., Covid, tickets will be refunded.